Local Artists Holiday Gift Ideas
Support local artists with your holiday gift purchases
Kelly Brooke Pottery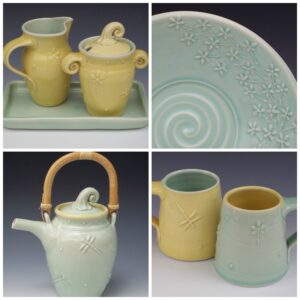 Welcome to Kelly Brooke Pottery! I have been a professional potter for 23 years since graduating from Converse College where I received a Bachelor of Fine Arts in Studio Art with a concentration in Ceramics in 1998. I continued my studies by attending intensive courses at Penland School of Crafts studying iron and ceramics. I am a two time recipient of a North Carolina Regional Artists Grant from the NC Arts Council.
All of my pottery is handmade; either wheel thrown and/or hand built from a North Carolina porcelain clay body. I use a centuries old embossed style of surface decoration known as sprigging where I apply hand carved dragonflies and flowers individually to my leather hardened pots making each one truly unique. All of my work is very durable, food safe, microwave, and dishwasher safe.
Visits to studio in High Point by appointment.
---
Original Paintings by Deb Frederick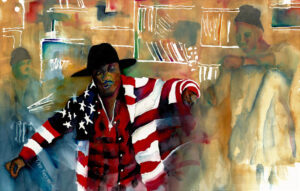 I am a graduate of The University of The Arts Philadelphia (UVA) (aka PCA). Acquiring a Bachelor of Fine Arts degree, my focus was Illustration. Directly after college I was immersed into the world of Denim and Fashion in NYC and later moved onto Greensboro NC to continue my Denim journey. Along my career path I worked for 3 Iconic Denim brands and 1 Fashion brand. Even though I was not using my paint brush, my innate ability to create played a great role in the positions I held for over 35 plus years.
My art business has been designated as a "Trusted Art Seller" with The Art Storefronts Organization, which means you can shop with confidence, and know that I stand behind the quality and value of my products.
---
BlackChicShop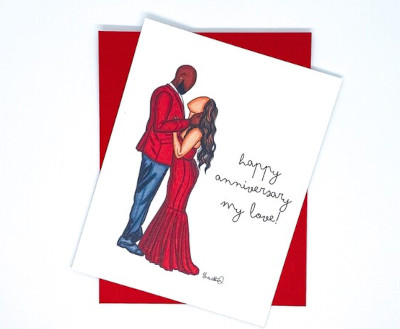 Black owned illustration prints & greeting cards by Greensboro's Shanitra Dunn. Every design is hand drawn and every card and print is handmade with love! We do custom orders too!
---
Greensboro Historic Prints – 20″ x 13″ poster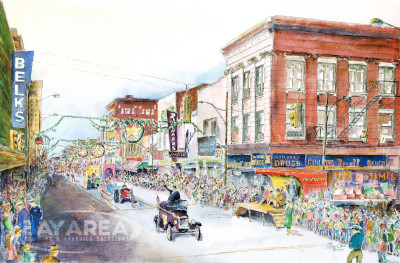 Accurate ink and watercolor renderings of street scenes in downtown Greensboro, NC, portraying life as it was on a typical day in 1910, 1918, 1949, and 1960. Each edition limited to between 100 and 200 prints.
I worked from black and white photographs I borrowed from the Greensboro History Museum, the Greensboro Merchants Association, and Jack Moebes, retired photographer for the Greensboro Daily News and Record.
$56.00
---
Bernadette A Potts ~ Studio B Artistic Photography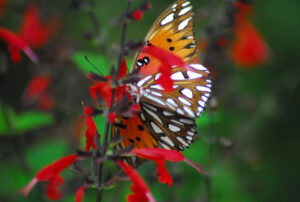 My passion is for creating art by capturing the extraordinary in the ordinary appearance of abstractions, architecture, and nature through the lens of my camera…my digital memory box. Through a series of connections and "art-portunities", my hobby, a form of relaxation, and a way for me to support my community as a volunteer photographer has metamorphosed into a passionately serious journey into fine art photography. Prints, greeting cards and framed art.
---
Artworks by John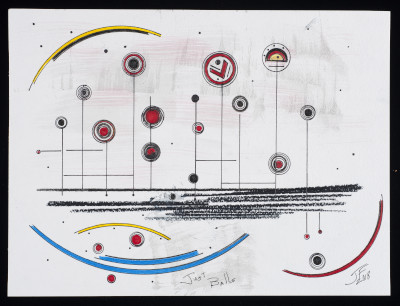 The artwork that I create is abstract/contemporary. All pieces are mixed media — watercolor paint, watercolor pen & pencil, black ink, and some 3-D effect. Originals and prints available.
---
Intercoastal Slumber
ktaylorconnects@gmail.com
336-528-6044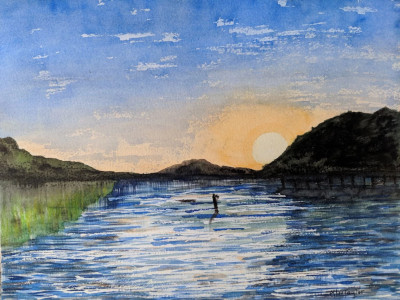 Watercolor on paper 8 5/8″ x 11 1/2″. Original framed in Museum Plein Air 15 1/8″ x 18 1/8″ Gold Frame with Linen Liner. $195. Prints and merchandise also available.
---
Kurkalova Polymer Clay Jewelry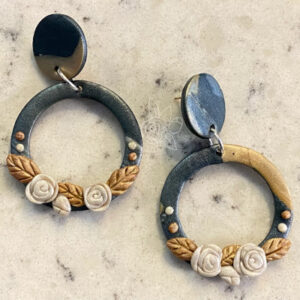 I am an artist based in Greensboro, North Carolina. NOVEMBER 2022: New earrings by Nov. 15th and 20% Black Friday sale Nov. 20-28th!
---
Sparkles On A Lake
Oil on linen, 18×24,
$3,200.
Greensboro, NC has many beautiful parks with lakes. I've always been captivated by light and how it changes my mood with the effects of the ever-changing atmosphere. I love the sublime feeling that I associate with sunlight on clear water. It's a challenge to paint a believable rendition of this effect. I'm happy with how this turned out.
---
Heather Gerni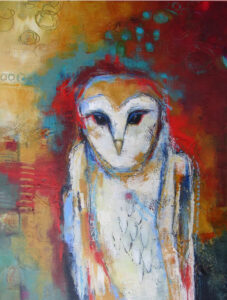 All of my work is created through the process of intuitive painting. Neither the subject matter nor composition is planned. Instead, the process allows a natural evolution of the painting with each layer informing the next. Prints and fine art original paintings.
---
Carolina Corona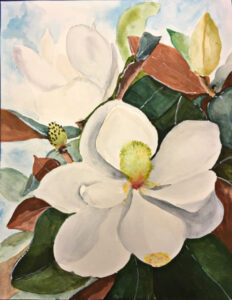 Nature welcomes me with her strong embrace every time I dive deep into her world. I admire the Earth for its beauty and I fear her passion. Each of my paintings represents a vision of nature, a sight forever frozen in time by the touch of paint. Done with acrylic and watercolor paints, my body of work is diverse, inspired, and personal. I hope to share the natural world that I so love and aspire to be a part of.
---
Kathy Eaton Designs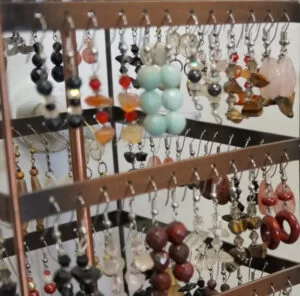 This is Kathy's first solo showing of her diverse art forms in jewelry, crochet, and pour painting. Great place to find gifts in all price ranges.
Now available at:
Creative Aging Network NC, Greensboro
2400 Summit Avenue, Greensboro, North Carolina
336-303-9963
---
Whirligigs and Spinners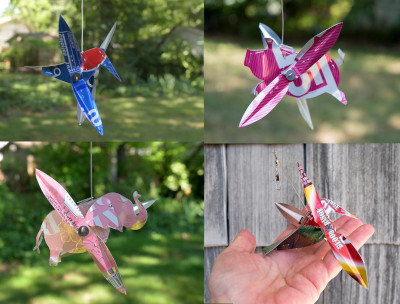 Michelle Folkman is a Greensboro, NC based artist who uses recycled aluminum cans to create art infused with light, air and motion. Formerly a 3D artist and animator, she received her BFA from the University of Michigan.
In her work, she takes inspiration from folk and craft artists, animators, toymakers, and tinkerers. Her unique wind spinners bring a carefree feel to any location and are the perfect addition to garden porch or planter.
Now available at:
The Shop at Greenhill;
and The Center for Visual Artists
200 N Davie Street Greensboro, NC
---
Totes by Deb Frederick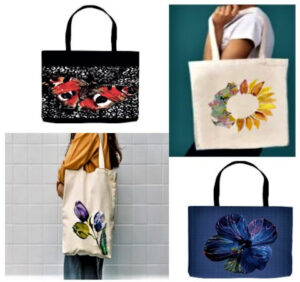 My name is Deb Frederick. I am a local Greensboro artist who enjoys painting and everything about Creativity. Realizing the current state of our economy is challenging, I wanted to create something that is more affordable yet unique. I am happy I can use my platform to allow people to still feel joy without breaking the bank. After all, we all love giving gifts during this season.
Available Nov 22 – Dec 22, at:
The Center for Visual Arts
200 N Davie Street Greensboro, NC
---
Picasso's Gift Shop
213 South Main Street, Graham, North Carolina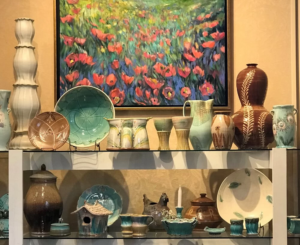 Picasso's Gift Shop, located in Alamance Arts, offers a unique selection of original and handcrafted gifts by local, regional and international artists for all occasions.
At Picasso's, you can find one-of-a-kind jewelry, pottery, paintings, glasswork, woodwork, metalwork and more!
Sales made through Picasso's help support the artists in and around our community.
---
Sugar My Body Scrubs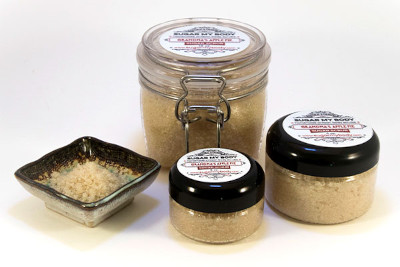 My Body uses the finest, freshest ingredients to hand craft sugar scrubs and salt scrubs that you can feel 100% safe using on your skin. With natural and organic ingredients and no harsh chemicals, our scrubs are packaged in recyclable, BPA-free containers. When you use a Sugar My Body scrub on your hands, feet, or body, you'll enjoy its subtle scent, gentle exfoliating properties…and smoother, softer, glowing skin.
---